There was a mounting biking race going on so we knew to avoid those trails so we set out to follow the Blue Star trail but had a hard time following their trail markers, or lack of markers. We ended up following most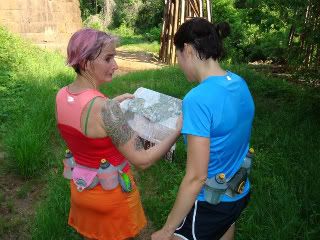 ly equestrian trails for the first half of our 9 mile run which made for rough footing but it was still fun. There was a nice mix of mostly woods, some fields, and some gravel roads. Around mile 4.5 we came to a stream that we knew we wanted to cross fairly soon. Not really knowing how far to get to a bridge to cross the stream we made the decision to cross it under some RR tracks where there were some rocks. Half way across I gave up on trying to cross with dry feet. I was having to use my hands to keep me steady and the girls were getting a good look at my backside. So, I just finally said screw it and jumped into the stream. Oh, it felt so good on my hot sweaty feet. Thank goodness trail shoes drain well. After crossing the stream we were finally on the Blue Star trail!
The Blue Star trail was for foot traffic only, very pretty and no huge gouges in the trail from hoof prints. Around mile 6 we came up
on an open field next to a road and the trail just seemed to disappear. We took out the map and tried to figure out where we were. For a moment we thought we were on the opposite side from where we wanted to be. Luckily we saw a park sign in the distance and ran over to it to see what it said, "Dairy Farm Access." Sweet we are on the right track around 2 miles from where we parked. This portion was mostly gravel road but it was a nice change of scenery with pastures and old farm buildings. Then we came upon a wide stream. There was a tall foot bridge or an option to go through the water. I opted for the water while Laura and Meredith took the foot bridge, at that point my feet were wet so I may as well indulge in some cool water. Ahh... that felt good, the water was to the top of my calves. I could have spent a few minutes just hanging out in that stream. We moved on and finished up our run with a loop around the lake near the parking. The last mile finally revealed the tired parts of my body. My shoulders were heavy and my lower back on the right was really starting to ache.
We made it through 9 miles in 1:43:00, not bad with all the pausing and slowing down to figure out where we were. I think we'll definitely go back there. Lots of trails to offer and even places to refill our water bottles without having to go back to our cars.
Wow, this ended up longer than I thought it would. I didn't realize I had so much to say about it. Now that I've started, I realize I could write several more pages. That's what is so great about trail running, it's not just a training run, it's an event, an adventure! When you are done there are so many little memories to pick out of it and cherish, I just don't find those special moments on the roads that often. If you've never done any trail running I highly recommend you get a friend and plan a morning to hit the trails and have an adventure. I promise you won't regret it!